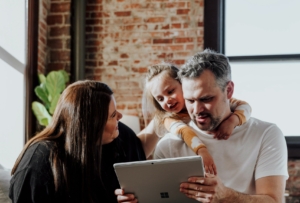 When you're preparing for an HVAC system replacement, there's a lot on your mind. You want a smooth experience and stellar results: a comfortable home you can relax in. 
Our seasoned HVAC professionals can help you find the right heating and cooling solutions for your home. And we're happy to answer any questions you may have along the way. When you have the information you need, you're empowered to make the best decisions possible.
Here are seven questions to consider asking your HVAC technician when you're looking for a new HVAC system.
What Type of HVAC System Is Best for My Home?
One-size-fits-all may work for novelty baseball caps, but it doesn't fly when it comes to new HVAC systems. This is because an HVAC system is made of interconnected parts that work together to keep your home comfortable. 
The ideal system for your home depends on many factors, including:
Your home's size

The age of your home

Your location & the general climate

What energy sources your home uses

The existing ventilation system in your home

Your personal preferences

Your budget
When we help you with a system upgrade, we take the time to understand all these factors so we find the perfect fit for you. We give you top-quality options that aren't too big or too small for your home, so they give you the right amount of power and airpressure. And since we build close relationships with equipment manufacturers, we help you get the best price possible. 
Will My New HVAC System Fit Where the Old System Was?
One factor that may be overlooked when choosing a heating or cooling system is the physical size. If the HVAC technician hasn't done it already, ask them to double-check the dimensions of the new equipment and compare it with the space where your old system is. 
Checking this in advance will save you from having equipment arrive only to discover you have to start a construction project just to get it in place. 
How Will the New System Affect my Energy Costs?
On average, new HVAC equipment reduces energy costs by X% (source). This is because they've been designed to be more efficient, giving you great results at a lower cost. For extra efficiency, look for equipment that is ENERGY STAR certified.
To help your system run as efficiently as possible, remember to keep up on regular filter changes! This helps air flow through the system without extra strain. Which leads us to our next question…
What Type of Filter Should I Use?
There are many types of HVAC filters out there, so shopping for a replacement can be confusing if you don't know what you're looking for. But having the right filter is vital. Installing the wrong filter can strain your system or even cause it to shut down. While your HVAC expert is still there, ask them about the correct filter size, type, and rating for your system. 
They can also advise you on the best filters to tackle any special concerns you have. This can include things like high-efficiency filters to reduce pet dander, pollen, dust, or other allergens. 
What Issues Are Covered Under the Warranty?
When an issue arises with your HVAC system, you need to know what your options are. And if you already have a solid understanding or your warranty, you'll have less to worry about. 
Chat with your HVAC technician about the warranty options they offer. Here are a few questions you might ask:
Are there any warranties included with my equipment?

Do you offer extended or expanded warranties? What are the options?

What repairs or replacements are covered by warranty?

How do I use the warranty coverage in the event of a problem?
With a little more information, you'll be prepared if future problems come up.
Are There Any Rebates or Special Offers I Can Claim?
Talk with the HVAC technician to see if their company is offering any special promotions or discounts — some companies offer seasonal discounts or package pricing when you replace your whole system.
You may also want to ask if there are any equipment rebates you can claim. There could also be credits you can claim on your taxes for switching to energy-efficient equipment. Your HVAC tech can help you find the details so you maximize your benefits.
Do You Offer Ongoing HVAC Maintenance?
Many HVAC teams not only offer installation services but maintenance as well. (We do!) One advantage of having your maintenance done by the same company that did the installation is that they already know you, your home, and your equipment.
Bonus Tip: Avoid the Mistake of Forgetting to Maintain Your New System
"Out of sight, out of mind" is a common aphorism. And it's also a trap that's all too easy to fall into when it comes to your HVAC system. However, regular maintenance is key! 
Taking care of your system on a regular basis helps your system run efficiently and effectively. It can also help your HVAC equipment last longer and prevent breakdowns or problems. 
Filter changes are a critical maintenance task you can take care of by yourself. But it's also a good practice to regularly have professional maintenance as well. Schedule your next maintenance appointment with your HVAC tech when you chat with them. Then you don't have to worry about forgetting it!
We Make Getting a New HVAC System Stress-Free
Our team has been working on Utah's heating and cooling systems for over thirty years, so we've done more upgrades than we can count! This means that we've had plenty of time to refine our process to make it easy for you. 
We're here to help you find a new HVAC system that you feel great about. And if you're on the fence, we'll answer your questions and address your concerns with no pressure.
Visit our Contact Page to get in touch for a free quote for your HVAC system replacement.